…oftewel: Japanse les in Utrecht!
Would you like to learn the Japanese language in Utrecht? Because we get so many questions about where in Utrecht you can take Japanese language classes (from English and from Dutch), we have created this page. This way you can contact the teachers directly, without intermediaries. Ganbatte!

Wil je Japans leren in Utrecht? Omdat we zoveel vragen krijgen over waar in Utrecht je Japanse taallessen kunt volgen (vanuit het Engels en vanuit het Nederlands), hebben we deze pagina gemaakt. Op deze manier kun je direct contact opnemen met de docenten, zonder tussenpersonen. Ganbatte!

Oh, and you are very welcome to join our Study Group for some extra practise!
Learning Japanese is not easy, but as the proverb goes: nana korobi ya oki (七転び八起き) – "stumble seven times, get back up eight!" If you don't try, you will have no chance to succeed. And the Japanese have a proverb for that as well: Koketsu ni hairazunba koji o ezu (虎穴に入らずんば虎子を得ず). Translation: "If you do not enter the tiger's cave, you will not catch its cub". So, what are you waiting for? Just pick your teacher and enter the cave of the tiger…
---
Maarten Liebregts gives Japanese lessons on the Wolvenplein, in the centre of Utrecht (Mon-Thu-Wed-Fri-Sun). The rates are 32 euro for 60 minutes and 45 euro for 90 minutes for one person, and 45 euro for 60 minutes and 63 euro for 90 minutes for two persons.

More information can be found on his homepage www.japanselesutrecht.nl .
---
On her website "Kotodama", Yo offers four different courses: a Conversation Course at Your Level, a Japanese News Study course, a course for the JLPT exam, and the Tailored Lesson.

She will visit you at home (or anywhere you like). The rates are: private lessons: €30 per hour, group lesson for 2 persons: €48 per hour, group lesson for 3 or more persons: on request. A trial lesson of 30 minutes is free of charge.
More information can be found on her homepage www.kotodama.nl
---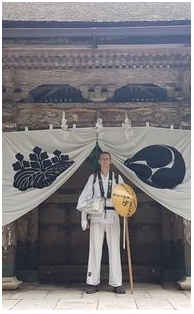 Niek Span – who you might remember from the video here – offers three different courses, all virtual.

First there is the Language course for beginners (classical), for those who are just starting to learn and like to do this together with others. Monday evenings 20:30 – 22:00, 12 lessons of 1,5 hours for € 216. There is also the Language course with previous knowledge (classical), for those who already have some experience with this nice language. Wednesday evenings from 18:45 to 22:00, also 12 lessons of 1.5 hours for € 216. Finally, there are the Individual language lessons (private), where you learn Japanese at a time that suits you best, adapted to your personal learning pace, these are € 21 per lesson hour.
More information can be found on his homepage www.japan-gids.org
---

Ben of ken jij een docent die ook op deze pagina hoort? Neem dan contact op met Martine en we zetten je erbij! 🙂

NB (in response to a question about this):
Japan Fans is a community which exists to make connections and help each other, so we are absolutely not going to make any commissions.