Travel Blogger and Japan Fan Nienke Krook had the chance to try out the "Evening Kingdom" puzzle by Four Point Puzzles, featuring a beautiful artwork by Kyoto-based artist Sanae Sugimoto.
This 1000-piece puzzle makes a perfect gift for lovers of Japanese art!
Practical Information
Company: Four Point Puzzles
Website: fourpointpuzzles.com
Title Puzzle: Evening Kingdom
Pieces: 1000 pc
Dimensions: 25 x 25 inch / 63.5 x 63.5 cm (square)
Prize: $28.00 USD
Buy here: fourpointpuzzles.com/products/evening-kingdom
Meet Artist Sanae Sugimoto
Sanae Sugimoto is an illustrator based in Kyoto, Japan. Her work uses traditional Japanese orange and black inks and fine pen work to create beautifully detailed illustrations.
Growing up surrounded by sea and mountains, Sanae was born in Tottori, Japan in 1975. Having attended art college in Kyoto, she now lives and works there as an illustrator working commercially for packaging, logos and magazines.
More recently, her interest has turned to using Japanese traditional black and orange inks. This process uses fine pen work to create beautifully detailed pieces.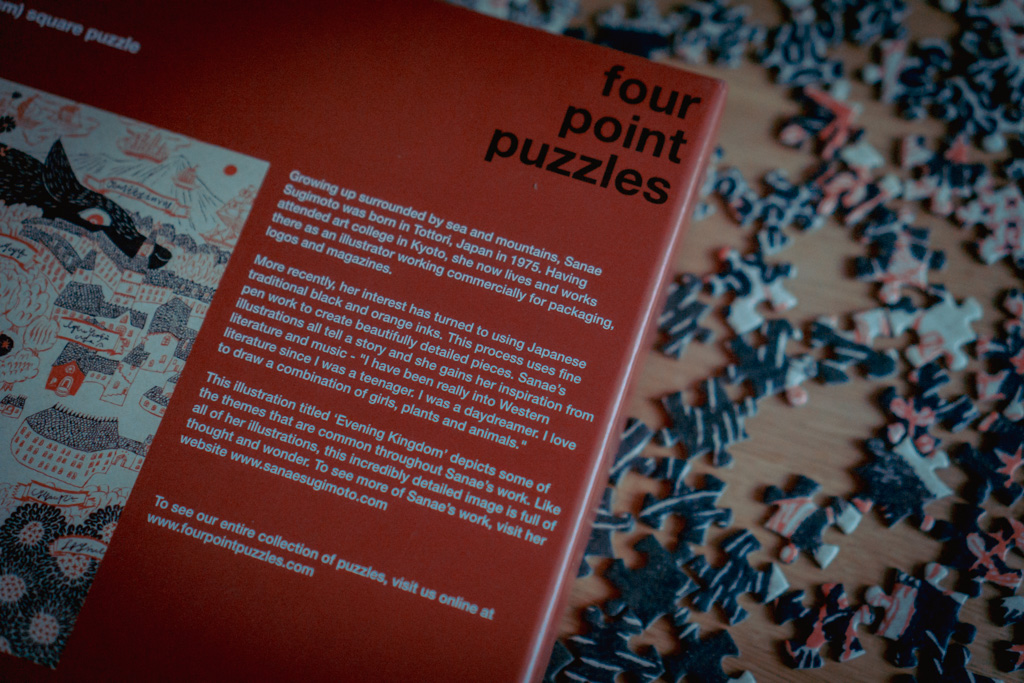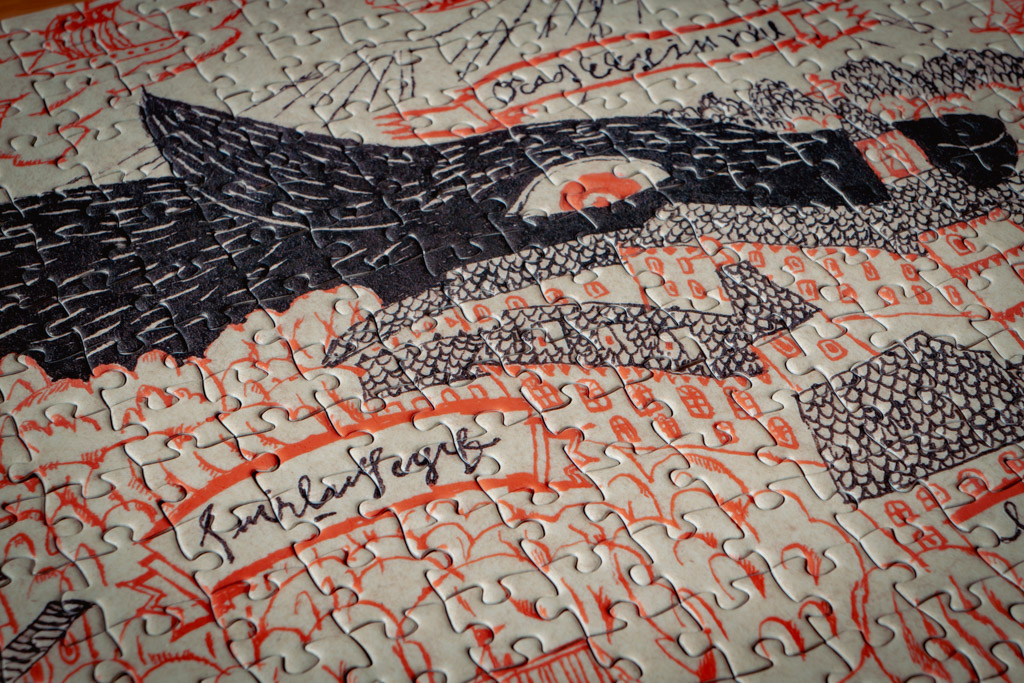 About the Artwork
"Evening Kingdom" is a narrative piece depicting themes common throughout much of Sanae Sugimoto's work such as girls, plants, flowers and animals.
Sanae's illustrations all tell a story and she gains here inspiration from literature and music.
Like all of her work, this incredibly detailed image is full of thought and wonder. To see more of her work, make sure to visit her website at www.sanaesugimoto.com.
About the Puzzle
This 1000 piece square puzzle has a size of 63.5 cm (25″) and is made from high-quality cardboard stock with a gloss finish.
The difficulty level of this puzzle is medium (rated 3/5), although working with only two colour inks adds a bit of a challenge! That said, the variation in imagery makes this puzzle interesting and achievable for anyone.
I found that sorting out the puzzle pieces by colour / pattern was the easiest way to get started. After completing the edge of the puzzle of course!
Then, piece-by-piece I filled in the space, starting with the most characteristic pieces (such as the ones with text, the ships and the flowers) and then making my way to the hardest pieces like the red and white trees and the houses (the tiny windows all look the same, yet they have little changes in the details!).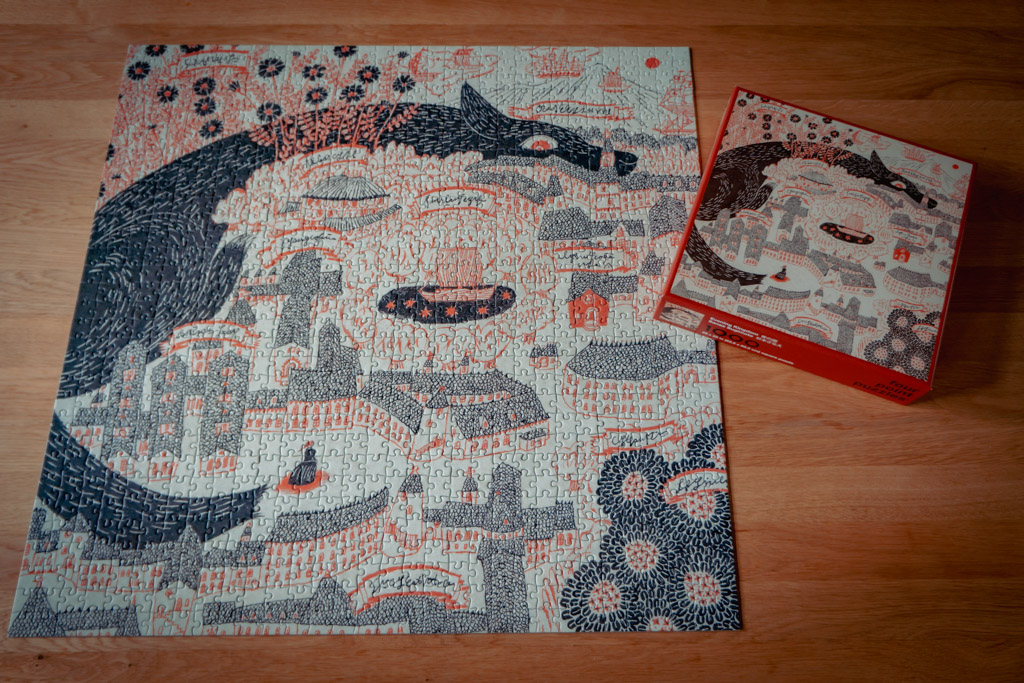 More About Four Point Puzzles
Founded in 2019 in Canada, Four Point Puzzles is a jigsaw puzzle company with a focus on contemporary art and design. Their products feature bold graphic designs and fine art prints from artists around the world – offering a modern take on a common pastime.
Founder Lindsay Stead combined her background in furniture and textile design with her love of puzzles and contemporary art in a brand that aims to make art more accessible and recognizable.
Visitors to her shop in Hamilton, Ontario are welcome to sit down and try out the puzzles, as well as touring the adjacent design studio to get a glimpse of the work that goes into bringing a puzzle concept to life.
I hope you enjoyed this short review of the Evening Kingdom puzzle by artist Sanae Sugimoto – I had such a good time completing it! A big thank you to Four Point Puzzles for providing a review copy.
Excited to get your own copy? You can buy Four Point Puzzles products from their online store and studio, as well as hundreds of art galleries, museums and independent retailers around the world.
In The Netherlands, you can find some Four Point Puzzle designs at "Famous" (Weteringschans 83, Amsterdam and "Alice & Jo" in Nijmegen (online only).
More About Nienke Krook
As "The Travel Tester", Nienke writes about cultural and creative travel experiences, both around the world as at home. She travelled to Japan several times and you can find all her personal stories and travel tips in her Japan Travel Guide on the blog.