If you are interested in Japanese culture and history, you might already know that on the 25th of February it is Baikasai Plum Blossom Festival in the Kitano Tenmangū Shrine in Kyoto. One of the main events of this festival is an outdoor tea ceremony. But what exactly does "tea ceremony" mean?
In two guest blogs, Klara and Philo help you to learn more about this special tradition. And when COVID is over, the Japan Fans Utrecht will organise workshops & demonstrations of various tea ceremonies at their two locations.
When you practice the tea ceremony, you are training the five organs of sense. You enjoy all these rich sensations in a quiet environment, together with others in harmony.

Fumiko Nabika 並河文子 (b.1931)
For her project "Stories from Kameoka'", Japanologist, artist and public speaker Philo Ouweleen interviewed residents of Kameoka and painted their portraits. Framed by two of Philo's diary entries, we read the story of Fumiko Nabika, an elderly lady who invited Philo to a tea ceremony.
Philo's Travelogue, 17-01-2019 Kameoka, Japan : Meeting tea ceremony master Fumiko Nabika
'Yesterday we ended up in an elderly lady's traditional house. It was like stepping into a time capsule. We quickly learned her name was Fumiko Nabika. She proudly showed us her home. Making our way over the cold tatami mats, the richness kept surprising me. A large black lacquer table was shown proudly, but also as if it was nothing special in a modest way, decorated with inlaid mother-of pearl cranes. "Oh, and those are folding screens". I noticed two beautiful goban (a board that functions as a playing surface for the game of go) and asked if Nabika-san played go. "My son does" she said, sliding open another door and showing us her kimono collection. Later I told her my brother also plays the game.
Nabika-san opened two heavy sliding doors to show us the beautiful view of the garden. Shortly later she told us she was eighty-eight years old.
The house was beautiful, but seemed uninhabited. Everything was neatly arranged, no personal belongings in sight. While it was like visiting a beautiful museum, it lacked the warmth of our own little house. I thought of Ksenia's question of what a home is. It seems like Nabika-san had consciously chosen to show us this part of the house, which while being of great splendour, also seemed empty and impersonal. Maybe there are parts of her house that are more like a 'home' we wondered together afterwards.
After this tour we sat down at the genkan (the entryway area to the house). I had never seen a genkan like this before. In the small space there somehow was a coffee table, couch, heater and chairs. We sat down and promptly the stories began to flow. Meanwhile, we were given fruit and candy from abroad. From her storage she also dug out part of a collection of 17 large size art books. She thought it might be inspiring to us. After enquiring about our interests, we looked at a large book filled with beautiful folding screens and one with pictures of birds and flowers (kachō-ga) .
It turned out Nabika-san had travelled quite a lot. Kindly smiling she told us about trips to Italy, Germany, and France. How she would like to visit the Netherlands one day.
Meanwhile a small conflicting emotional scenario was playing out in my head. I felt embarrassed, frustrated and sad because I could not follow all Nabika-san was saying. But then I would get drawn into the present moment again, when she kindly moved her body in my direction, slightly hunched over and smiled at me. A genuine, warm and very happy smile. Her eyes, when talking to us, had a special spark in them. Nabika-san seemed, in this relatively short time span we were in her company, content and happy. She clearly enjoyed our company, which made me happy and helped me focus on the conversation. It is not only about what is being said, but also about the moment that is shared. Conversing in a language that is not your mother language, it is inevitable that not all that is being said will be understood.
In a moment of confusion, we realized we are being invited to join Nabika-san in a tea ceremony. She kindly offers to bring chairs for us, as we might not be able to sit in the seiza position: on the knees with the legs underneath one's thighs, resting your buttocks on the heels. She added: "I can also not sit in this way anymore. But even though I am of old age, I will wear a kimono. As long as you wear white socks, it is all right."
During the time we spent with Nabika-san, it had gotten dark. When we left and walked home, lots of thoughts were running through my head. Nabika-san had left a deep impression, with her youth, energy and vigour which became clear from the moment she greeted and invited us in.
I fell asleep at the kotatsu table in our house. Feeling jetlagged and exhausted I took a long rest.
Today a clear blue sky in Kameoka. The sun is shining.'
Interview with Fumiko Nabika 並河文子 (b.1931)
"Originally I am from Kyoto city. I moved to Kameoka when I got married. This was back in Shōwa 32 (1957), so it has now been 62 years since I came here.
In the Japanese countryside there is a system of groups, duties and roles. Everyone takes care of something, of the shrine, the temple, the yearly festival. In the beginning – being from Kyoto – it was all hard to understand, but now I kind of know how it works. And that is all because of the tea ceremony.
When I was ten years old, I started studying the tea ceremony. I was still in elementary school, in the fourth grade. One of my older sisters studied the tea ceremony and ikebana. At that time the war had started and sugar and snacks were scarce. But because my sister was taking tea ceremony classes, she would always come home with cakes and sweets. I was so jealous!  And that is why I started learning about the tea ceremony, because I wanted sweets!
Of course, this was a long time ago. In middle school I took more classes, together with my friends and in addition to the usual curriculum. It was very enjoyable. I have now been performing the art of the tea ceremony for over 70 years, which takes strength and perseverance.
When you practice the tea ceremony, you train the five organs of sense. You see with your eyes the elegant designs of the tea utensils, you hear the sounds of nature, you taste the wonderful flavors and textures of the tea and accompanying sweets, you experience the change of seasons, you smell the tatami floor. You enjoy all these rich sensations in a quiet environment, together with others in harmony."
Philo's Travelogue, 20-01-2019 Kameoka, Japan: Attending a special tea ceremony
Invited by Fumiko Nabika, we visit the Ōmoto religious center in Kameoka. This religious movement is a branch from Shintoism and believes divinity is best transmitted through the arts. Thus, there is a lot of attention for noh, ikebana and the tea ceremony. By sheer luck we receive the privilege to participate in a tea ceremony. The community seems wealthy: a beautiful natsume (tea container) and mizusashi (water container) accompany the ceremony: objects I usually see in a completely different setting: as pieces of art to be sold at the art gallery in Leiden of which I am an employee.
We are thankful to Nabika-san for providing us with this unique experience. Meeting her unexpectedly a few days earlier, here we are at this beautiful rich spiritual center, accompanied by Robert – her son-in-law – who is so kind to provide translations and guidance.
After the ceremony ends, a circle of people form around her. They are all talking, sometimes slightly bowing to each other and she is just glowing. Seeing her walk in traditional Japanese clothing and footwear, over steep paths with small white pebbles, I would have never guessed her age. After the ceremony with all the new protocol that we try to follow as best as we can – turn this way now, lay the fan upwards, now bow – I am simply drained. She however seems to be filled with energy and I can not help but be deeply impressed. While her son in law gently helps her along the pebbles, we make our way home.'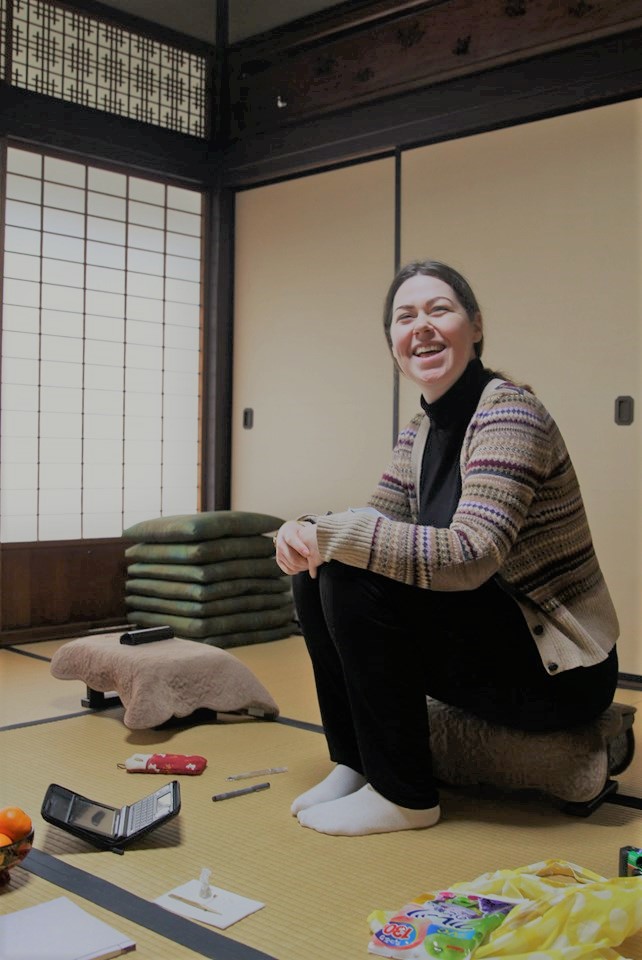 After their meeting, Philo and Nabika stayed in touch and Nabika sent Philo a handwritten letter in Japanese (as she indicated in the interview that she still does), with a four-leaf clover from her Japanese garden.
To read more about Philo, visit her virtual exhibition, her website – where you can buy the book "Stories from Kameoka"! – and her Instagram.
Thank you so much, Philo, for sharing these wonderful stories with us! ^_^