As one of the cities most visited worldwide, Kyoto is known as the heart of Japan. A land where traditions and unique culture make any visitors fall in love with the place in an instant and want to come back for more. From the 8th century onwards, Kyoto has been the capital of Japan. Here's a history lover's guide to Kyoto!
As history lover's know, in earlier times, Kyoto was a political centre, the hub of government, and home to all of the ruling shogunate. Therefore, Kyoto city in Japan is still considered to be one of the most significant hubs of historical importance in the world.

With its preserved temples, shrines, gardens, and castles, you might feel like you've travelled through time when strolling down the streets of this extraordinary city. I wrote an article about my favourite things to do in Kyoto from a history lover's perspective. Whether you are planning your first trip to Japan or writing off Kyoto as a tourist trap, take a moment to read this guide before forming a judgment. You might be pleasantly surprised!
1. Nijo Castle
Nijo Castle is one of the most magnificent castles in Japan. It was built over several centuries, but most of what tourists see today are remains from the late Edo period and early Meiji period. Nijo Castle was built by Tokugawa Ieyasu, the founder of the Tokugawa shogunate, to serve as his retirement home. It is also just as impressive on the inside as it is on the outside. With an intricate layout and epic structure, Nijo Castle is a must-see for anyone who enjoys architecture!
2. Fushimi Inari Taisha Shrine
Fushimi Inari Taisha Shrine is a must-visit when you are visiting Kyoto. It's one of Tokyo's hidden gems. This shrine is famous for its torii gates; they have thousands of them on the trails leading up to the shrine.
The shrine is located on a hill with 2,000 Torii gates throughout the path that looks beautiful during cherry blossom season. The narrow and steep trail which leads to the top of the hill is called Senbon Torri leading up to the shrine.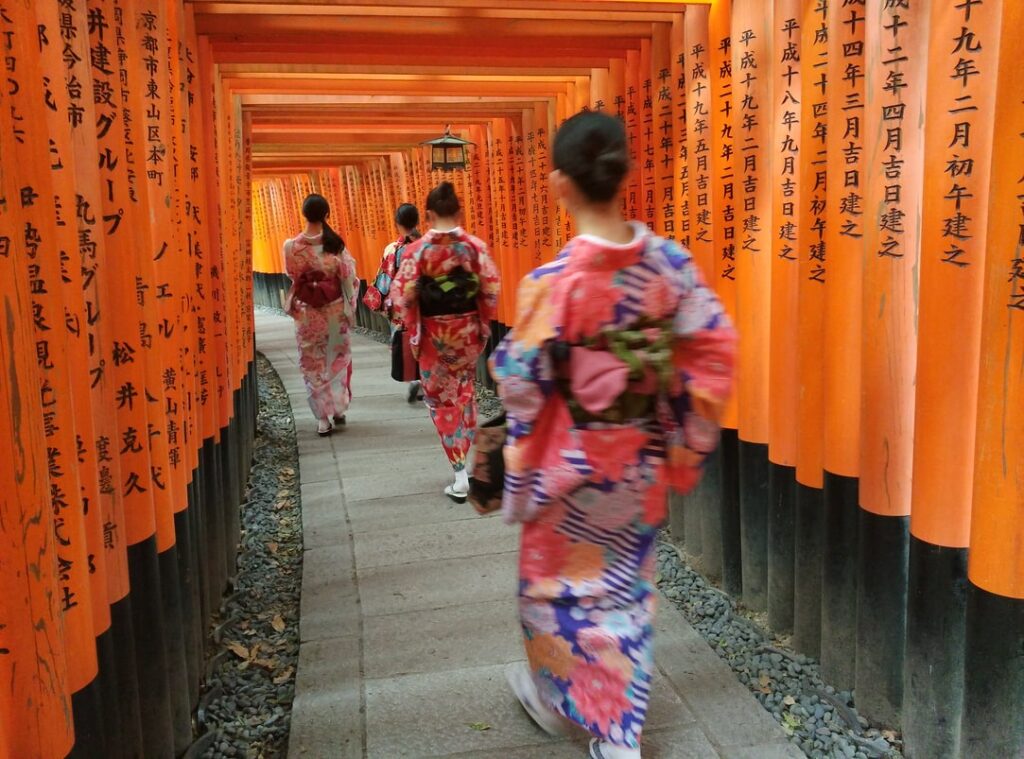 3. Kyoto Imperial Palace
A place where the past and present intertwine, Kyoto Imperial Palace is a magical place that awaits your visit! Situated within its shadowy stone walls and lush gardens, the Kyoto Imperial Palace is a truly amazing complex in one of Japan's ancient capital.
4. Kinkaku-Ji Temple
Kinkaku-Ji Temple looked like a dream. It floats above the ground, shining brightly in its splendour and beauty. Standing at the entrance of Kinkaku-Ji Temple, you're greeted by a large pond with several islands scattered across it. The sun was setting, and the entire structure glittered because the temple was built out of gold.
Ancient records hint that the structure has been around since 1397, when Yoshimitsu built it. The Chinese-style building looks stunning even in pictures.
5. Kiyomizu-Dera Temple
A history lover's guide to Kyoto would be incomplete without mentioning the Kiyomizu-Dera Temple. This is the oldest wooden structure in Kyoto, going back to almost 1,300 years ago. It is a style of architecture known as a 'tahō-zukuri' or 'architecture for the gods'. The temple is a UNESCO World Heritage Site and one of the many UNESCO World Heritage Sites you can find in Kyoto.
This blog was written by Pakistani Japan Fan Tahira. She is a travel blogger who loves to write about art, culture, and beautiful destinations. Her travelling experiences will help you in finding the best tourist attractions.
What is your favourite place in Kyoto? Share your experiences in our Facebook group!