If you are interested in Japanese Culture & History, you have probably already come across many of the concepts listed in our Eight Japanese Habits to Boost your Wellbeing. Let's check them out!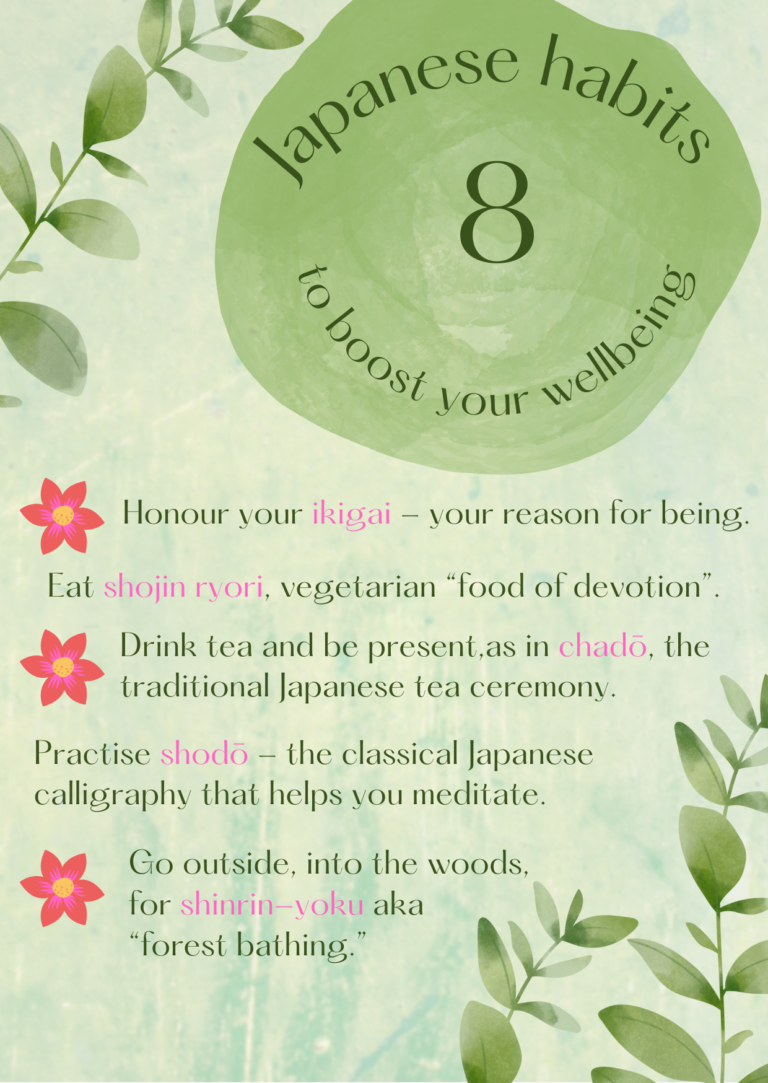 A collage with our eight Japanese habits to boost your wellbeing. Feel free to share these images by reposting them (on Pinterest or elsewhere)
1. Honour your ikigai – your reason for being.
2. Eat shojin ryori, vegetarian "food of devotion".
3. Drink tea and be present as in chadō, the traditional Japanese tea ceremony.
4. Go outside, into the woods, for shinrin-yoku aka "forest bathing".
5. Create some ikebana, by attentively and mindfully arranging flowers (and/or moss, leaves, twigs…)
6. Engage in a budō, a Japanese martial art like aikido, iaido, jodo, judo, karate, kobudo, kendo, kyudo… and discover how this changes your body and your mind. (See also: Bushido.) A related practice is do-in, the Japanese yoga. If you live in the Netherlands, you might want to check our featured dojo in Utrecht.
7. After a long day's work, unwind with ofuro – the soaking in a steaming bath.
Bonus: if something seems broken, think about kintsugi, which means "golden joinery". Love and honour the imperfections of life as they offer it its uniqueness!
Other Japanese habits that the Japan Fans regularly engage in are learning Japanese, studying Shinto & Buddhism in Japan, folding origami (for example for hospitals in the Utrecht area) and playing Japanese music. Next to that, we love to share our interest via our mini matsuri, and by interviewing people who are as crazy about Japan as we are!
What about you? What do you think of these eight habits? Will you try some of them? And do you have any to add? If you like, you can discuss this and more in our Facebook group.