Maan means Moon and from the 16th of May onwards, she invites her audience to join her on a journey to the Land of the Rising Sun. This blog post is a personal reflection on the opening of Maan's "The Lost World Exhibition".
On the site of an old railway workshop, in the Tweede Daalsebuurt area in Utrecht, you will find the Ping Pong Club. Easy to reach, but with a "remote" look & feel, half derelict and yet nice and clean. The perfect setting for the exhibition of The Last World. The expo itself turns out to be a full-fledged experience. There are scent/fragrance boxes where visitors can smell the plants and herbs that Maan took with her from the places she photographed, and there is a soundscape made by Paul Wienk, so that the audience is literally in the middle of the sounds that Paul and Maan associate with the places visited.
The hall is full of 'Japan fans' – not necessarily as members of our group, but as nice artistic people with a special interest in Japan. Many visitors were beautifully dressed, ranging from authentic kimono jackets to in 'Western' clothes with patterns inspired by Japanese art and culture (I myself was wearing a BudoGirl shirt, of course). Maan herself took the crown as the radiant centrepiece in her beautiful gala dress. Host of the evening was Luc Loois, who wore an old t-shirt of his deceased father for the occasion. A touching example of Mono no aware (物の哀れ).
With her exhibition, Maan takes us by the hand – along on an adventure. But whereas the photos shared in our group are mainly about the hyper-technical metropolises and the Buddhist serenity of nature, Maan takes you backstage, as it were, to another side of Japan. Her journey is almost a pilgrimage, an association that is confirmed by the beautiful stamp-based graphic elements in the book and on the information boards. Maan's pilgrimage was explicitly only about abandoned places; if a house was boarded up, for example, she did not enter it, because then someone might come back, someone for whom the place still has value.
The evening opened with a visualisation exercise. "Hello!" Luc called to us cheerfully as he walked onto the stage. Immediately afterwards, he asked the audience to close their eyes. "What do you see, hear and smell when hearing these sounds?" – The audience was completely in the mood already and travelled along in their minds with Maan, who travelled through Japan in a van in 2018, photographing abandoned buildings. It started with an empty hotel, followed by factories, bathhouses, supermarkets and even residential houses. Sometimes the buildings were abandoned with all kinds of contents still in them – the computer and administration still on a desk in a former office. Once it must have been a busy and bustling place, but now you see in the photos mainly the silence and the peace. Almost magical, such a world without people, as if nature is taking over again.
In the midst of her beautiful works, some even printed on fabric and hanging under an old fluorescent tube, Maan was interviewed by Luc. She told us with infectious enthusiasm about her whole experience – not only the trip, which was at once dystopian and intimate – but especially everything that came after: designing the exhibition and the book. Fortunately, the photographic artist had gathered a whole team around her for this major project that was able to help her. She could also count on support from her sponsors, such as the Municipality of Utrecht, to whom Maan presented the very first book.
The next part of the programme was a very interesting Q&A with Japanologist Joosje Smit. She had met Maan in Kobe, while she was studying Japanology and doing her graduation research there, and the two quickly became friends. This made Joosje the perfect person to write the background essay to The Lost World. And on this evening, she told about it in a fascinating way. Did you know for example that in Japan no less than 13.6 percent of all houses are empty? For me as a Dutch person, that is almost unimaginable, but in Japan it is daily reality.
The Japanese refer to this phenomenon with the word 'akiya' (空き家), which literally just means 'empty house', but emotionally also has connotations of abandoned, given up and perhaps even stigmatised places. Joosje analysed akiya smoothly and convincingly on the basis of four reasons: the oversupply of housing, the ageing population, the migration to the big cities and politics (mortgage policy, tax incentives, property taxes etc). Funnily enough, she also said that she always saw the akiya in the neighbourhood, but had never thought about it that much. "I'm quite a wimp, I don't go into those houses" she said. Maybe that is also an expression of her adaptation to the Japanese culture? It took a cheeky foreigner to investigate and capture the akiya.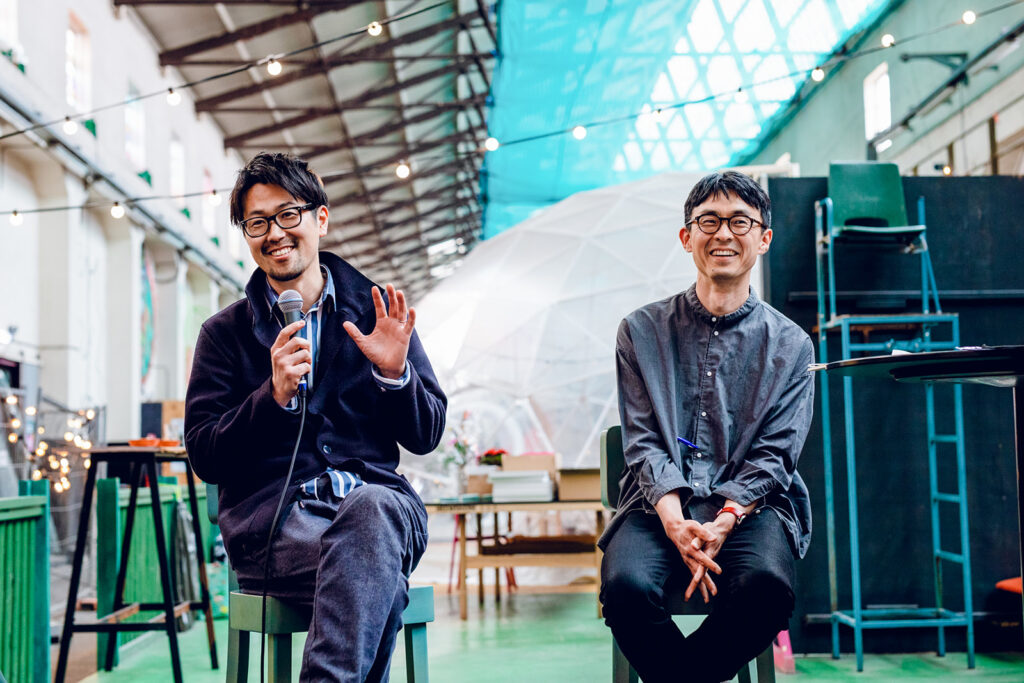 After the – far too short! – Q&A with Joosje followed the Japanese side of the story, in an (also very short) lecture by Satoru Muneda (architect) and Takeshi Okahashi (sociologist). They complimented Maan on her wonderful book and exhibition and then gave their vision on the subject of vacancy in Japan. They started with an element that Joosje also touched upon: the downside of the growing economy.
"Tokyo absorbed everything", Satoru said. As a result, the individuality of the smaller towns is easily and quickly lost. It will be very difficult, perhaps even impossible, to regain that identity. For the two gentlemen, Moon's work was also an eye-opener. They have always lived in larger cities and therefore never thought much about these abandoned places. Now they actually see this kind of akiya through Moon's lens with new eyes. Some images are surreal to them, while others seem familiar and evoke nostalgic thoughts and musings about the people of the past.
From his background as a sociologist, Takeshi interpreted several academic studies based on academic articles that already showed an enormous migration to the big cities in the 50s and 60s. He also recognises this from his own family history: his parents and grandparents also left the small villages for the big cities. The second and third generation thus grow up in a city with no connection to the place where their ancestors came from. As a result, they lack a cultural basis and are actually uprooted.
Saturo recognised the analyses made by Takeshi and followed them up with experiences from his own professional practice as an architect. Initially, when he saw the akiya, he thought he wanted to demolish the old dilapidated buildings in order to give more space to the regrowing nature. Perhaps beautiful large forests could be created there. But now that he has seen Maan's The Lost World, he wants to preserve the houses, for those who lived there or perhaps in some way still do.
Enough food for thought, then, in those small hours. Still thinking, it was already time for the audience to buy the book, congratulate Maan personally, read all the signs, greet friends and enjoy a drink. All with musical support by DJ. St Paul. It was a wonderful evening!
The Lost World Exhibition can be visited until 3 July at the  Ping Pong Club and will be on display at other locations thereafter. Follow Maan's  website and  Facebook to stay up to date!
Soon there will also be a review on this site of the beautiful book that accompanies this exhibition.