As history lovers know, Kyoto is Japan's ancient capital, and therefore one of the most visited places in the country. If you like Japanese art & culture, you could easily spend a week visiting all the interesting museums in Kyoto! Here is our top-10.
Besides wonderful natural scenery, cultural heritage, food, and festivals, there are fascinating museums worth visiting. You should go to Kyoto for sightseeing, shopping, and enjoy food. But don't forget about visiting one of the many art museums there.
The top-10 Best Museums in Kyoto?
More than 200 museums in and around Kyoto are full of art, architecture, and artifacts from ancient times to modern-day. Choosing only a few museums to visit can be the biggest challenge for your trip. That's why the Japan Fans have created this comprehensive list for you. We went through each museum's website and found the most helpful information.
1. Kyoto National Museum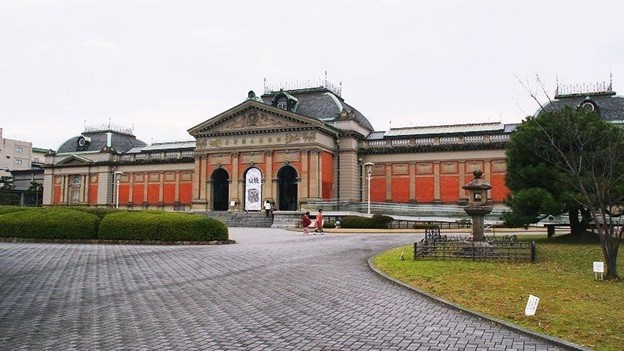 The Kyoto National Museum is one of the most prestigious museums globally, with a collection comprising more than 120,000 artworks, making it the largest comprehensive museum in Japan.
In the hall of arts and science, there is ukiyoe on the Fujiwara court and topics such as the capital of Japan. In another hall, you can see china's tax revenues from the Kanto area and gold processes that have been handed down for three generations. The east building consists of an exhibition with a focus on natural history and meteorology, including big earthquakes in Japan. In another exhibit, designed in the room itself, you can discover scientific samples, such as fossils or tiny animals like insects. In addition to historical artifacts, it offers a special exhibition of cultural properties that are not usually on display.
It houses many precious objects of high historical and artistic value, including Important Cultural Properties designated by the Japanese Government, as well as other national treasures, fine art collections, archaeological findings, and documents on East Asian cultural history. Never miss the opportunity to visit this beautiful museum!
2. The Kyoto International Manga Museum
Have you ever dreamed of being whisked away to a magical world where manga comes alive?. The Manga Museum of Kyoto is one museum that can be counted among the Japan tourism attractions with a unique story to tell.
Established in 2006, this museum houses 150,000 pieces of original manga art and 70,000 animation cels.
Some of the most popular manga characters are represented with life-size figures, as well as creating a 3D theatre with a huge monitor on which visitors can see film shorts about their favorite animations.

Visit this page to learn more about the manga museum in Kyoto.
3. Gekkeikan Okura Sake Museum
One of the best things I did while living in Japan was to visit the Gekikan Okura Sake Museum. It allowed me to see how they make sake and how they age it and also featured a great library of books you can read while enjoying a bottle or two of sake.
The museum is housed within the Hiroshima Prefecture-designated Important Cultural Property, "Gekkeikan Honkan" (the brewery's main building). It was registered as an essential tangible cultural property in its present state, which has been preserved historically.
4. The Museum Of Kyoto
The Museum of Kyoto is the first building constructed in the 21st century, exemplifying what we think a museum should be. This futuristic-looking architectural creation was designed by a young architect, Jun Aoki, and it's definitely on par with what the future has in store. This ultra-modern museum makes its statement through its location, materials, and lighting.
The Museum of Kyoto is an institution displaying the works of Japanese artists. For more than 40 years, it has been the stage for a wide variety of performances by local artists and companies. Visitors can also enjoy a wealth of experiences, including theater, music, dance, concerts, film, and its collection.
5. National Museum of Modern Art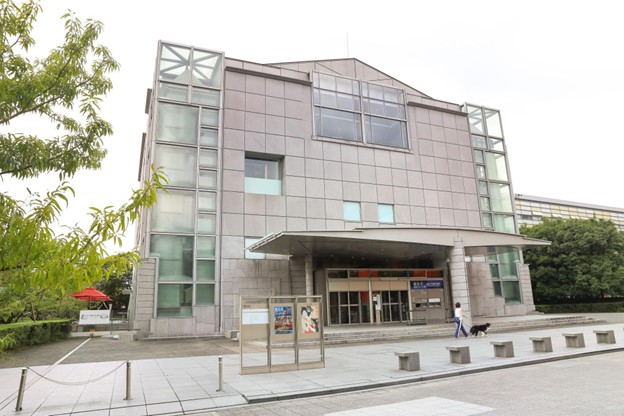 The National Museum of Modern Art is one of Japan's most famous art museums. Established on January 30, 1996, MMOT has attracted many people because of its unique design and impressive collection of modern artwork. The entrance fee is considerable, but there are no additional costs. If you are an art lover, then you must visit this museum.
The museum consists of nine branches, including the "Contemporary Art Gallery" (located in a separate building at Várkert Bazaar), as well as a collection of photographic material, graphic works, films, and videos. Exhibition rooms are home to an exceptional range of painting archives consisting of 700 paintings, while depositories contain around 23 000 graphics works (including 3 782 prints and 2 617 drawings).
6. Nishijin Textile Center
Nishijin Textile Center is the essence of weaving and dyeing. The texture of the fabric made by artisans felt a suddenly arrived atmosphere of nostalgia in here. Nishijin is a big traditional textile center in Kyoto. Nishijin is where graceful and profoundly cultivated Musou-ori looms its carpets, blankets, and many more to wear in chilly seasons.
The museum features eight galleries that house a collection of beautiful kimono, honzen (literary hanging scrolls), and ikat, as well as other works that make use of these textiles. Shopping in Nishijin Textile Center is an experience. It is one of the most unique places for shopping in Kyoto, with a variety of Japanese and foreign materials which are sold at reasonable prices.
7. The Kyoto Museum of Traditional Crafts
The Kyoto Museum of Traditional Crafts, located in the Katsura Imperial Villa, is a treasure trove of old Japanese crafts and tools. It offers exhibitions of traditional Japanese crafts, ranging from lacquerware and bamboo craftwork to weaving and dyeing. There are also various hands-on experiences available in the museum. The museum is known as Fureaikan by locals.
A visit to the Kyoto Museum of Traditional Crafts will reveal countless examples of beautiful craftsmanship: meticulously carved tansu chests, painted ceramics, and handwoven kimono fabric. Savor the artistic expression of the Japanese aesthetic in these traditional artifacts.
8. The Kyoto Railway Museum
The Kyoto Railway Museum is exactly what it sounds like: a museum devoted to the history of trains! If you're into trains or want to learn more about Japan's fascinating railway history, then this is the place for you. It's a ridiculously large and technologically advanced interactive museum containing over 100 exhibits!
Opened in 2016, this museum showcases the most comprehensive collection of model trains, train memorabilia, and other related artifacts in Japan.
The Kyoto Railway Museum is located near the front gate of the J.R. Kyoto Station building. It is built to remember the first train in Japan and to show the history of the railway using the engine A1, which was made by Kawasaki Shipbuilding Company in Kobe in the 1870s.
9. Kyoto Seishu Netsuke Art Museum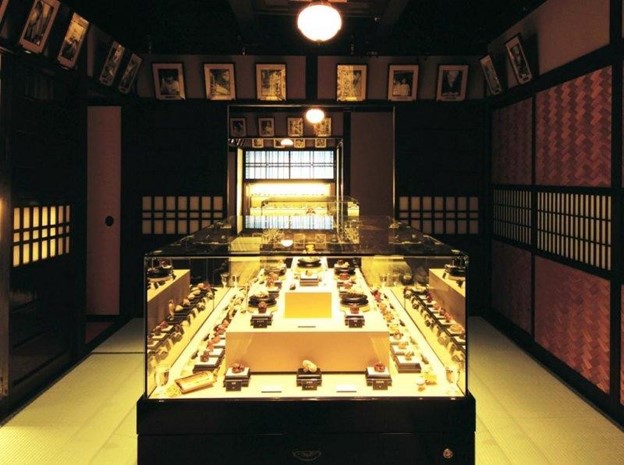 Kyoto Seishu Netsuke Art Museum, one of the most visited museums in Japan, is located in both Kyoto and Osaka, Japan. The museum was established in 1991 and featured a fabulous exhibition of more than 2000 exquisite Japanese lacquer works!
Netsuke has been an important part of Japanese art and culture for hundreds of years. The collection of Kyoto Seishu Netsuke Art Museum is composed of some 1800 netsukes made by various carvers in the Gokayama region, the Honjo region, the Okutama region, and the Seto Inland Sea region, etc.
At Kyoto Seishu Netsuke Art Museum, you can experience tens of thousands of netsukes carved mostly from ivory and wood. These masterpieces date as far back as the Asuka and Heian periods (A.D. 602-1185).
10. Kyoto City Kyocera Museum of Art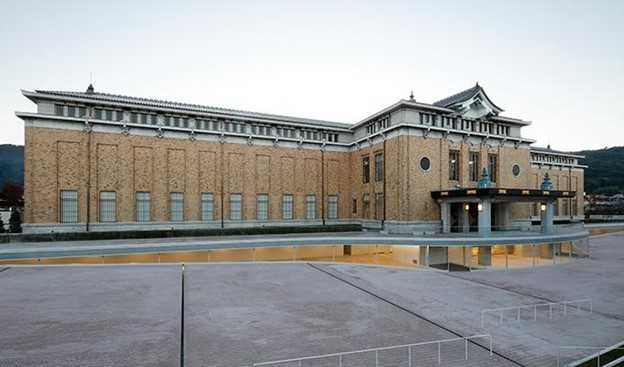 Kyoto City Kyocera Museum of Art (Kyoto City Museum of Art) is located on the ground floor of Kyoto Municipal Central Public Hall. It was founded in 1933 by Kyoto City as the first museum for modern art.
There are about 2,600 works in the collection so far, including representative works of 20th-century artists such as Picasso, Miró, Kandinsky, and Andy Warhol, along with the donation of works by the late Shuzo Takiguchi to the museum.
It was established for the purpose of preserving and exhibiting pottery works and the like collected by Kyoto City. It holds approximately 11,000 pieces, including ceramics and fine arts works such as two-dimensional pictures, architectural materials, and documents.
Housed in a 4-story building with a total floor space of 4,100m2, it has become a major cultural facility for the public's enjoyment of fine arts.
Interesting Facts about Kyoto
Number of Tourists visiting Japan Yearly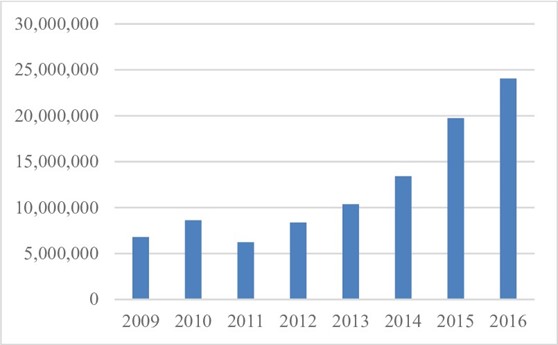 Japan Average Temperature
---
This blog was written by Pakistani Japan Fan Tahira. She is a travel blogger who loves to write about art, culture, and beautiful destinations. Her travelling experiences will help you in finding the best tourist attractions.
What are your favourite museums in Kyoto? Share your experiences in our Facebook group!