Do you also have so much fun with the origami workshops & videos? And maybe already a whole pile of "folding works" on your table? Then get ready for some extra inspiration! 😉 In this blog WaBi shows us how to use origami to create Japanese style ornaments. She makes all kinds of beautiful decorations from her origami! Thank you so much, WaBi!
WaBi – crafting contemporary Japanese style ornaments
My name is 和美(わび・WaBi; originally from Japan), I settled in Portsmouth, United Kingdom. I chose the name WaBi as 和美 in Kanji. 和 means as Japanese or Japanese style and 美 means something beautiful. It has a different meaning from the famous Japanese aesthetic Wabi-Sabi (侘び 寂び) along with Zen culture.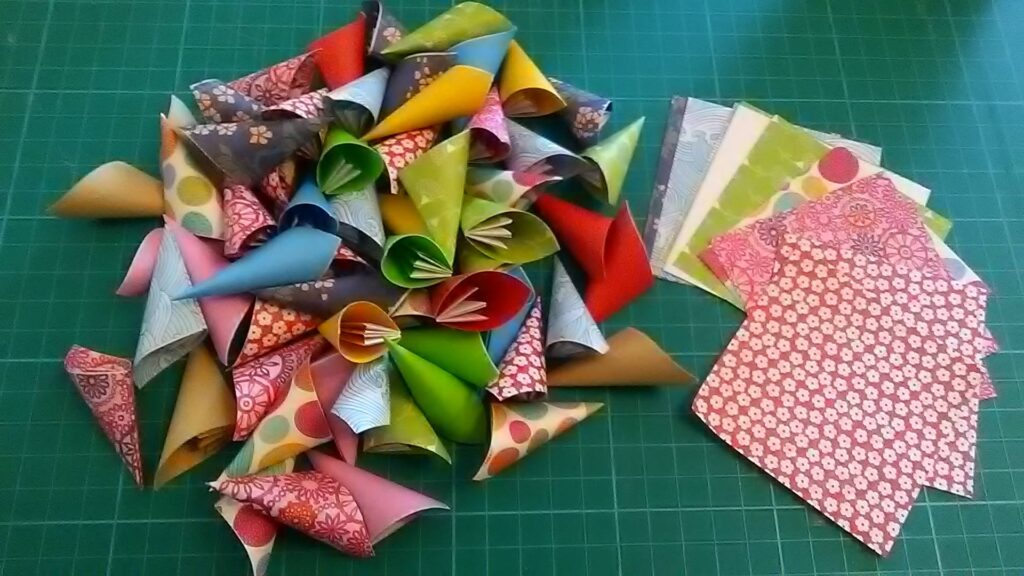 My little craft project began a long time ago. It started as on informal Japanese Arts & Crafts setting for the local community where I offered an easy origami workshop. Since then, I realised that it helps me not to forget about my cultural identity. I offer workshop / demonstrations when possible.
I believe that learning about different cultures does not have to be expensive. All you need is a small group of likeminded people and share the knowledge & skills (I love cultural exchange). WaBi is a visual art form it shows a different style of easy handmade paper crafts that are made in my spare time alongside my looking after a family member. WaBi is therapeutic for myself too.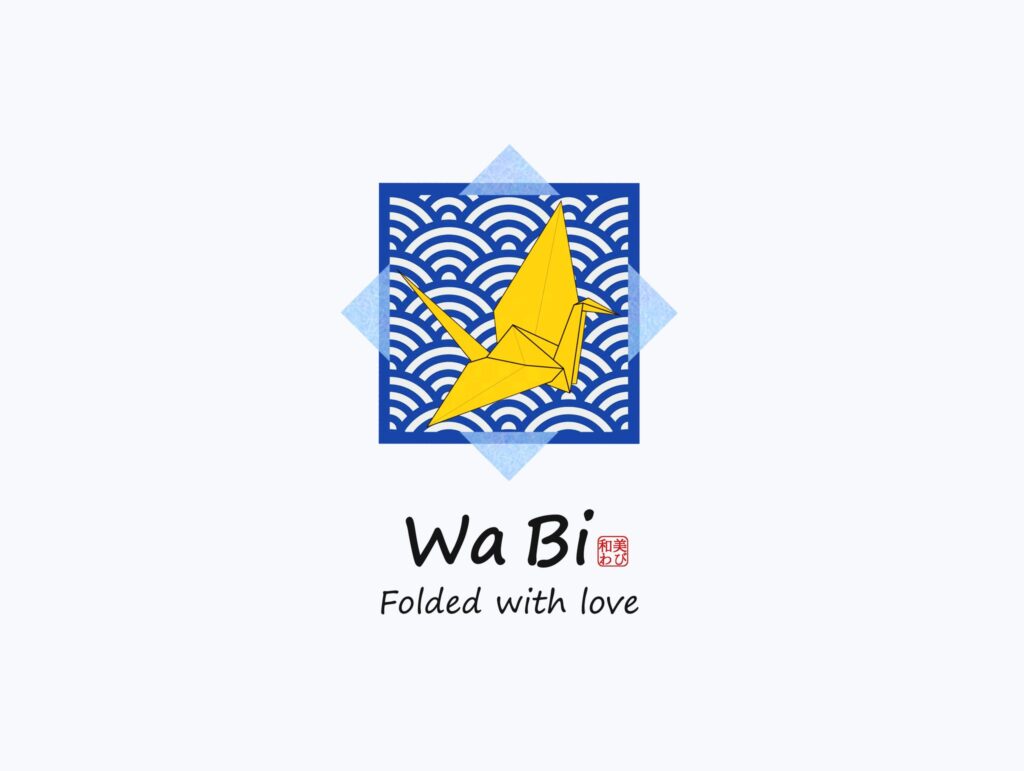 I designed this new logo hoping that it represents contemporary Japanese origami crafts without a long description. The yellow bird is an origami crane – a famous icon in the origami world that carries wishes / prayers. The background pattern is called Sei-gai-ha (青海波)it means weave – one of traditional Japanese patterns (文様・mon-yo). The weave links with the seaside town where I am from and where I live now. 3 different sized squares are origami papers and I chose dark blue as calming and communication influence colour.
I was delighted to find Japan Fans in the Netherlands on Facebook. Also, it was a surprise for me because I never knew how widely Japanese culture is spread and loved in the world. Please feel free to visit and interact on my pages:

www.facebook.com/HandmadeWaBi
www.facebook.com/Creator.WaBi
Happy networking and warm greetings from the UK. Thank you! 😊
---
Thank you so much, WaBi, for teaching us how to use origami to create Japanese style ornaments! When we realise our dream and start a centre for Japanese art and culture in Utrecht, we will decorate it with origami and Japanese style ornaments!