Perhaps you had already come across them here & there in Utrecht? They hang, lie and stand in community centres, libraries and cafés, among other places: the results of our artistic research "The Spirit of Kanji". From 1 October, we will exhibit more of our Japanese arts in ACU Utrecht.
How do Asian people like our Dom city? What makes someone from Japan feel at home in Utrecht? And is that different for a Japanese than for a Chinese, Vietnamese, Korean or Taiwanese? On the basis of these questions, the Japan Fans Utrecht talked to Utrechters with Asian roots.
Based on these stories about experiences in the city of Dom, the Japan Fans created works of art. Each story was summarised in a "kanji", an Asian character, which was then further edited, for instance using blueprint and collage techniques. Together with the interviews, the artworks offer a unique insight into the lives of Utrecht inhabitants from different Asian cultures.
From October 1: Japanese Arts in ACU Utrecht
Reproductions of the artworks are spread throughout the city, in the cafés, libraries and community centres where the interviews took place, often surrounded by Japanese flute music and objects that have a personal meaning for the interviewee. From 1 October, ACU will present a selection of the originals, with QR codes to read the accompanying interviews on the spot (in Dutch and English).
"The Spirit of Kanji", from 1 October in ACU, Voorstraat 71 Utrecht.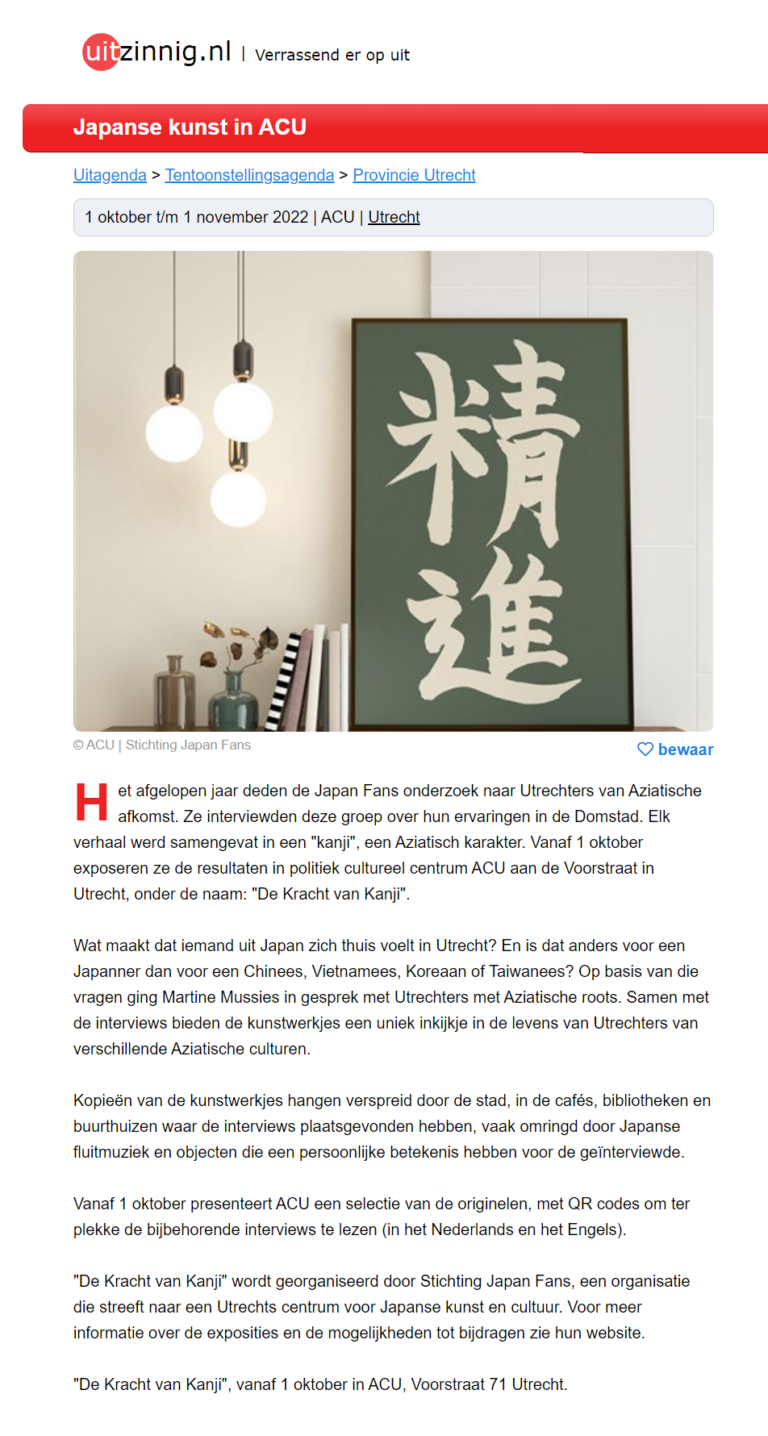 Our dream: a Japanese cultural centre in Utrecht
With "The Power of Kanji", we take another step towards realising our dream: a Japanese Art & Culture Centre in Utrecht. Because of course we would love to do this kind of artistic research and organise exhibitions every day in our own Japanese cultural centre in Utrecht!