We are thrilled about the feature of our event Kodomo no Hi in Dagblad Utrecht (Utrecht Newspaper).
Read about Kodomo no Hi – Japanese Children's Day and about our Kodomo no Hi event in Houten.
The article in Dagblad Utrecht highlights the recent origami event organized by Japan Fans to celebrate Kodomo no Hi, the Japanese Children's Day. It was a joyous occasion where members of our association, along with Japanese, Chinese, and Dutch children, gathered in Houten to create paper koi carp and other origami crafts.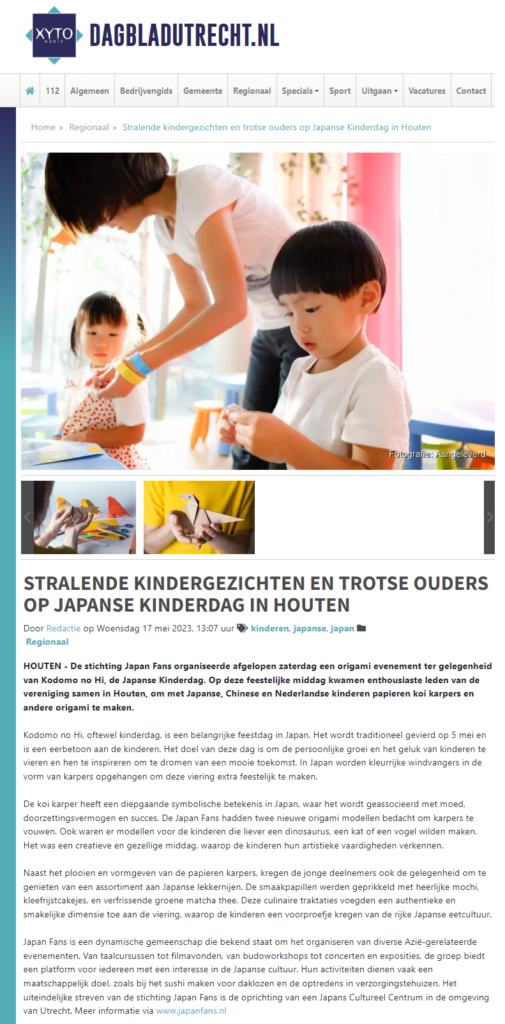 A screenshot of the article on the website of Dagblad Utrecht. A translation of the text of the original article can be found below.
---
SHINING CHILDREN'S FACES AND PROUD PARENTS AT JAPANESE CHILDREN'S DAY IN HOUTEN
HOUTEN – The Japan Fans Foundation organised an origami event last Saturday to mark Kodomo no Hi, the Japanese Children's Day. On this festive afternoon, enthusiastic members of the association gathered in Houten to make paper koi carp and other origami with Japanese, Chinese and Dutch children.
Kodomo no Hi, or Children's Day, is an important holiday in Japan. It is traditionally celebrated on 5 May and honours children. The purpose of the day is to celebrate children's personal growth and happiness and inspire them to dream of a bright future. In Japan, colourful windcatchers in the shape of carp are hung to make this celebration extra festive.
The koi carp has profound symbolic significance in Japan, where it is associated with courage, perseverance and success. The Japan Fans had come up with two new origami models to fold carp. There were also models for the children who preferred to make a dinosaur, a cat or a bird. It was a creative and fun afternoon, with the children exploring their artistic skills.
Besides folding and shaping the paper carp, the young participants also had the opportunity to enjoy an assortment of Japanese delicacies. The taste buds were tantalised with delicious mochi, sticky rice cakes, and refreshing green matcha tea. These culinary treats added an authentic and tasty dimension to the celebration, at which the children got a taste of Japan's rich food culture.
Japan Fans is a dynamic community known for organising various Asia-related events. From language courses to movie nights, budo workshops to concerts and exhibitions, the group provides a platform for anyone with an interest in Japanese culture. Their activities often serve a social purpose, as in sushi-making for the homeless and performances at care homes. The ultimate aim of the Japan Fans Foundation is to establish a Japanese Cultural Centre in the Utrecht area. More information via www.japanfans.nl
---
Kodomo no Hi in Dagblad Utrecht
We are grateful for the recognition in the newspaper and are excited about the prospects of celebrating next year's Children's Day in our very own Japanese Cultural Center in Utrecht. Like our FB page Japans Cultureel Centrum Utrecht and stay tuned for updates!