There are often Japanese events happening at the Neude Library! As a community of Japan Fans, we are fortunate to be able to participate in some of these events and also contribute to the library's offerings.
The Neude library is a fantastic venue for events, with its beautiful architecture, central location, and extensive collection of Japanese books and manga. We are grateful for the library's support of Japanese culture and for providing a space where we can come together to learn, create, and share our passion for all things Japanese.
At Japan Fans, the library at the Neude is one of our favourite spots in the city. During the pandemic, we started out mostly online, creating small videos explaining Japanese games from the gameshop "Neverneverland" at the Oudegracht. However, since things have been opening up again, many of our activities are taking place live at the heart of Utrecht: the old post office at the Neude, which currently houses the library.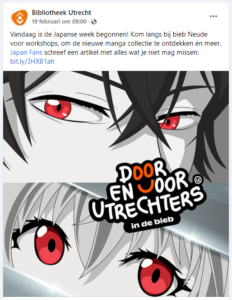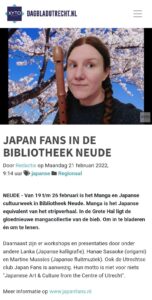 First and foremost, every week we have no less than three free language lesson classes – one beginner Japanese, one intermediate Japanese, and one Dutch language for Japanese people. We also regularly meet in the main hall to write haiku and practice origami. But we also visit the library for its books, of course! Besides the "regular" books about Japanese language and culture, the library has a huge manga collection, and there is a special "Himawari" mini library with Japanese children's books.
Besides that, we love to play Japanese music on the grand piano. We play everything from Ghibli songs to children's songs to classical Japanese piano music. During the "Manga & Japanese Culture Week," we organized a pop-up concert with Japanese music on the tenor recorder and attended a lecture by manga scholar Yu Ito.

For the future, we hope to attend and contribute to many more Japanese events at the Neude library. For example, we plan on organizing a Japanese language cafe in Utrecht and helping our dojo friends with the organization of a comic book market. We are excited about the possibilities and opportunities that the Neude library offers, and we look forward to exploring them further.
While we are excited about the prospect of opening our own Japanese Art & Culture Centre in Utrecht, we will never forget the Neude Library and the role it has played in our community. The library will always have a special place in our hearts, we will continue to support and attend events there, and we are grateful for the memories and experiences we have shared there.